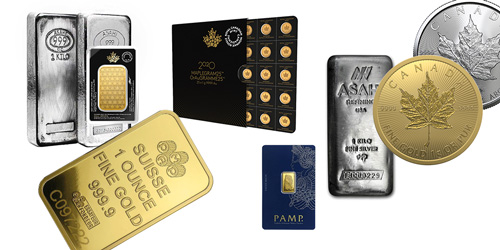 Buy Silver & Gold Bullion Online
Buy Silver & gold bullion online, gold bars and silver coins at our secured online portal with the best precious metal prices Read More …
Top buyer for your Gold and Silver Scrap
Your gold and silver scrap is base of our business. Royal Brilliance Gallery has expertise in offering scrap gold & silver Read More …
Check out live precious metal prices
Investors have access to check out our live precious metal prices to buy silver & gold bullion online or sell gold, silver  Read More …
Buy silver & gold bullion online and in-store from Royal Brilliance Gallery. We are a Precious metals dealer store located in Richmond Hill. We at Royal Brilliance Gallery pride ourselves in providing convenient and safe services with our gold, silver and precious metals online portal to make sure that you can buy silver online and get the best scrap precious metal deals. Furthermore, we make sure that your security and privacy are maintained during the transaction.
Welcome to Royal Brilliance Gallery
Buy silver & gold bullion online and in-store with Canada's leading Precious metals dealer. Royal Brilliance Gallery is a one-stop-shop for gold bars, silver bars, and all scrap precious metals. We provide competitive prices and make sure that metals are delivered to you safely and insured.
Moreover, our team of experienced professionals is committed to providing you with remarkable service throughout your buying experience.
Our Royal Brilliance Gallery team works to build relationships with the clients buying silver bullion and gold bullion to make sure they return to us for their next purchases.
Selection Products 
Buy silver & gold bullion online from our top sellers products
Scrap Gold & Silver
Royal Brilliance Gallery has expertise in offering scrap gold & silver. We are one of the top buyer for your gold and silver scrap in Toronto. Read More …